Crystal Steel is always looking for ways to make steel fabrication environmentally sound and sustainable. We are committed to managing and reducing our environmental impact as an integral part of our operations. It is our policy to always ensure the environmental integrity of our processes and facilities and we will strive to improve our environmental performance over time and to initiate additional projects and activities that will further reduce our impact on the environment.

Our commitment to the environment extends to our staff, our customers, and the communities in which we operate. We are committed to:
Complying with all applicable environmental regulations.

Preventing pollution whenever possible.
Communicating our environmental commitment and efforts to our staff, customers, and community.
Training all staff on our environmental program and empowering them to contribute and participate.
Continually improving over time by striving to measure our environmental impacts and by setting goals to reduce these impacts each year.
LEED - Leadership in Energy and Environmental Design
Crystal Steel has also been involved in many LEED projects. The U.S. Green Building Council's Leadership in Energy and Environmental Design (LEED) program has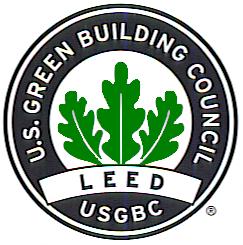 become widely utilized with the goal of developing better performing buildings with lower cost to operate and lower pollution and waste in the construction process.

LEED Certification can also lead to enhanced profitability on jobs where owners offer incentives for attaining the highest possible LEED rating. In completing numerous LEED projects, Crystal Steel has helped our clients to capture enormous savings and quite simply build better, more efficient buildings.